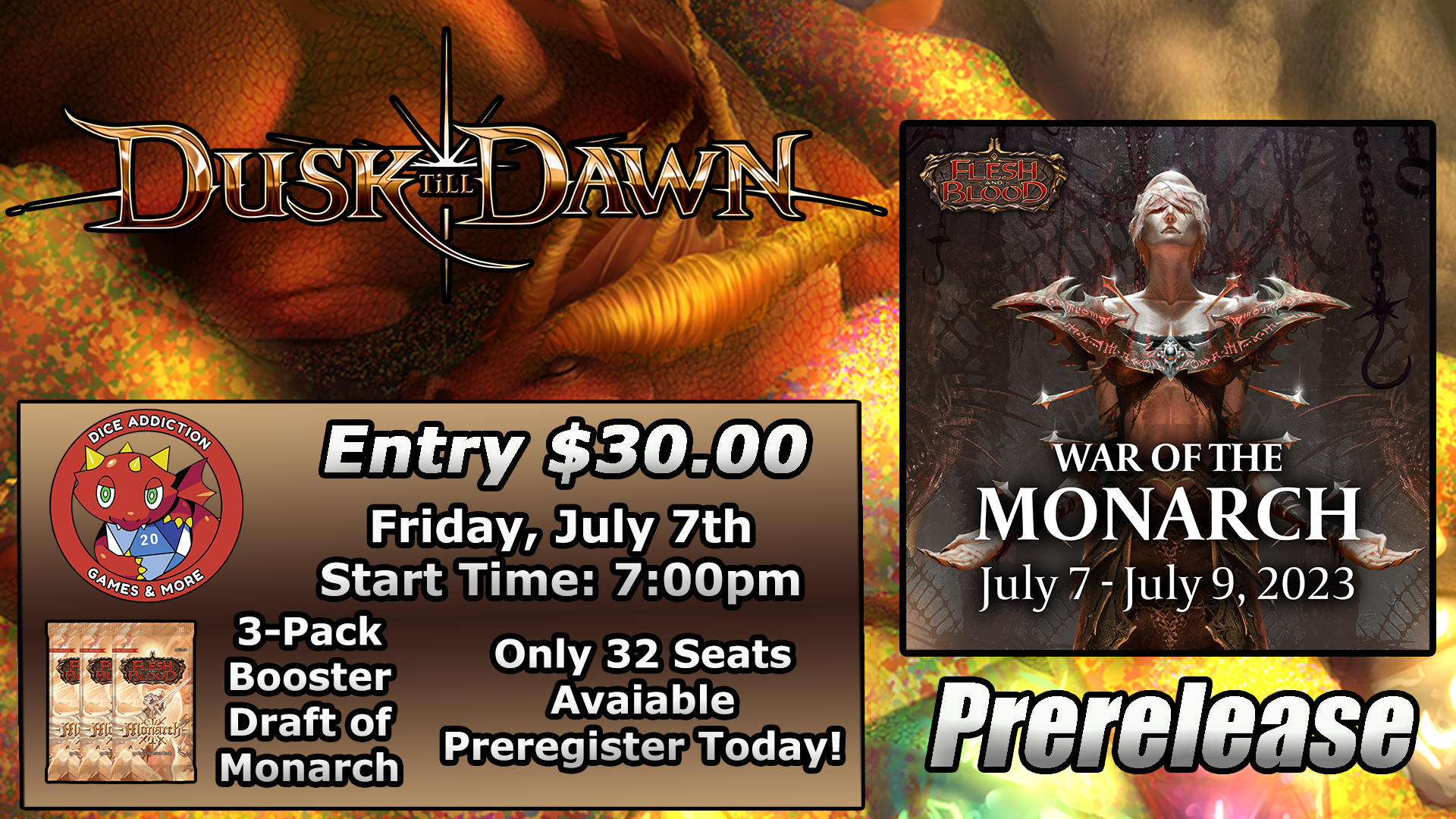 War of the Monarch Prerelease Event
Flesh and Blood
Prerelease Event
2023-07-07
19:00:00
Howdy Heroes! 
Dice Addiction is excited to announce our War of the Monarch Prerelease Event for Flesh and Blood on Friday, July 7th! This event will start at 7:00pm and is only $30 to enter! This event will be a 3-Pack Booster Draft of the original Light and Shadow set, Monarch! The event is capped at 32 entrants which will have up to 4 pods of 8 participants! Prize Support will be given out per pod and the winner of each pod will receive a Cold Foil Vynnset or Cold Foil Prism, Advent of Thrones Hero Card! We will also have Dusk till Dawn Booster Packs as additional Prize Support for each pod as well! Full event information and Prize Support can be found below!
If you have any questions, give us a call at 918-932-8226 or join our Discord at the link below! See y'all soon!
Discord Link: https://bit.ly/TankDiscordDA 
Event Information
DATE: Friday, July 7th, 2023
TIME: 7:00PM
FORMAT: Monarch Booster Draft
PARTICIPATION SUPPORT: Each participant will receive an Extended Art Rainbow Foil Herald of Ravages promo card. Players will also receive 3x booster packs of Dusk till Dawn just for entering the event. 
​PRIZE SUPPORT: The winner of each Draft Pod will receive a Cold Foil Vynnset or Prism, Advent of Heroes Hero Card.
​

32
In order to be eligible for a 
refund
, you have to 
return
 the product within 30 calendar days of your purchase. The product must be in the same condition that you received it and must be undamaged in any way. Store Credit will be issued for all returns unless a similar item is not in stock. If not, the payment  will be 
refunded
 by the original payment method used during the purchase.