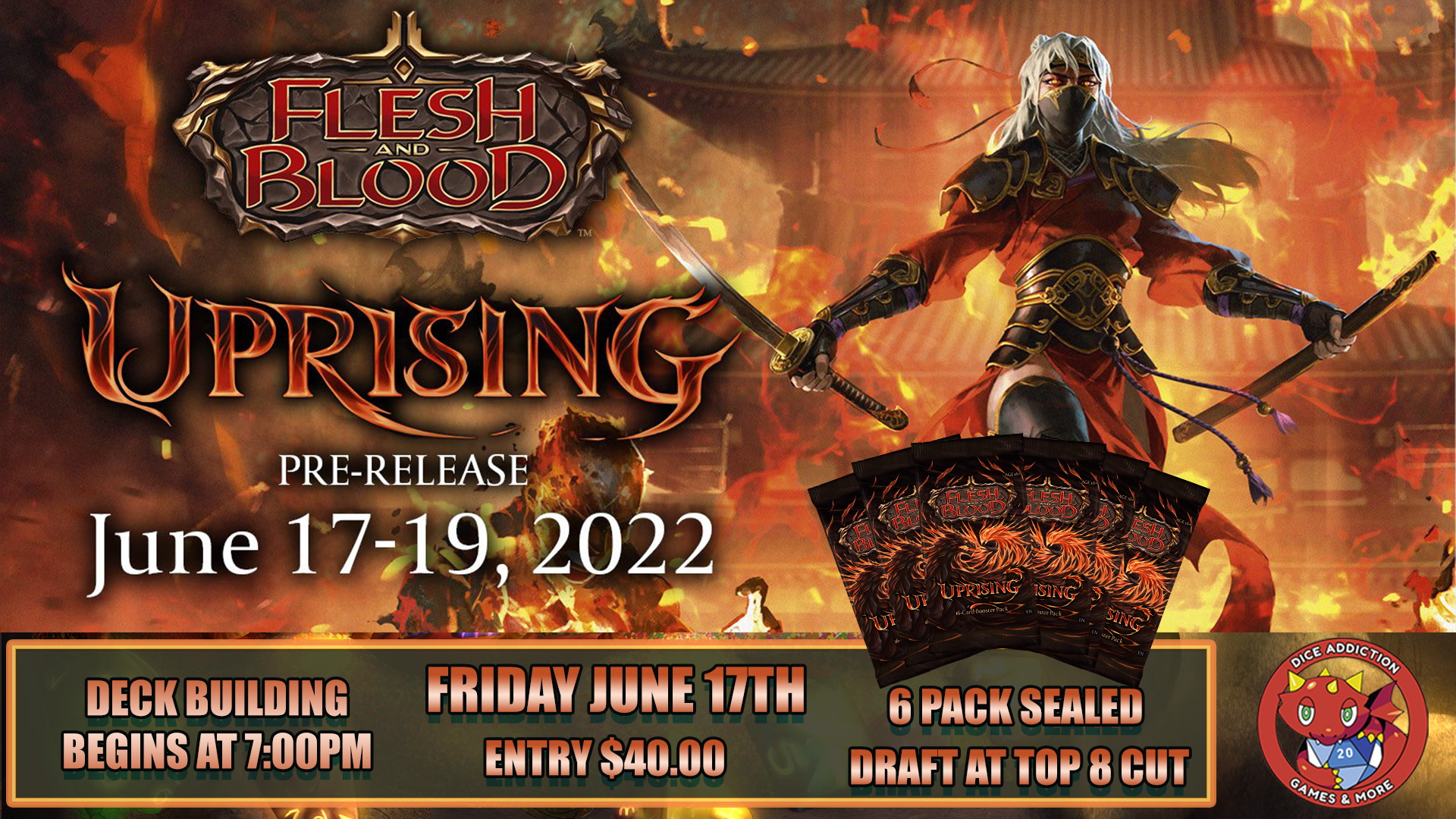 FAB: Uprising Prerlease
Flesh and Blood
Pre-Release
2022-06-17
19:00:00
Hey Heroes!
Join us for Dice Addiction's Uprising Prerelease event Friday, June 17th at 7:00pm! The format for this event will be sealed (6 boosters per player to build a 30 card minimum deck)! Unlike Tales of Aria prerelease, we will also be doing a cut to top 8 where they will have a booster draft! Entry will be $40.00 with only 64 seats available for this event, so please pre-register in-store as the spots will go quickly! Each participant will also receive promo cards that can be used during the event!  Players must be present by 7:00 PM on Friday, June 17th to receive their packs! We are ecstatic to be hosting our second Flesh and Blood Prerelease!
If you have any questions, message us on any of our social media or give us a call at (918) 932-822! See you soon!
Flesh and Blood Uprising Prerelease Event Information
DATE: June 17th, 2022 
TIME: Deck Building will begin at 7:00pm. Round 1 will begin by 7:35pm.
ENTRY: $40.00. Each entrant will also receive promo cards that may be used in the sealed event.
FORMAT: Best of 1 Sealed 30 minute rounds based on number of entrants. Top 8 cut will have a booster draft.
Additional door prizes will be handed out throughout the evening as well.
#Tulsa #tankthedragon #diceaddiction  #shoplocal #ShopSmall #boosterpack #tcg #FAB #Fleshandblood #legendstorystudios #fabtcg #fleshandbloodtcg #uprising
0
In order to be eligible for a 
refund
, you have to 
return
 the product within 30 calendar days of your purchase. The product must be in the same condition that you received it and must be undamaged in any way. Store Credit will be issued for all returns unless a similar item is not in stock. If not, the payment  will be 
refunded
 by the original payment method used during the purchase.